Athens, Ga. — Despite a strong offensive output in the first half, the University of Georgia men's basketball team lost to Arkansas, 99-73, before 6,448 fans Wednesday evening at Stegeman Coliseum.
Stanley Umude scored a season-high 31 points, including a career-high six three-pointers and the Razorbacks held the Bulldogs to just 26 second-half points in that period.
The Bulldogs were on fire early, quickly taking a 10-5 lead compliments of 3-pointers from Noah Baumann and Kario Oquendo, but Arkansas (17-5, 6-3 SEC) was able to recover and take the lead by the first media break. Georgia responded with consecutive treys by Jabri Abdur-Rahm, spurring a 13-2 run to go up by eight. Sloppy back-to-back turnovers brought the Razorbacks within two points at 24-22.
"The game was going a little too fast for us in the first half," said Georgia head coach Tom Crean said. "We were giving up too many baskets, but at least we were coming down and scoring. We some bad offensive possessions start of the second half which got their break going, which got Stanley Umude hot. Went to 12 on those open threes and our offense was a recipient as much as anything of not being good defensively getting back."
Both teams went on runs in the half, but turnovers hurt Georgia in the first half. The Razorbacks found success from the perimeter as they tied the game by a long three from JD Notae with five minutes to play. The scoring onslaught continued with nine consecutive Arkansas points, leading to a late trey to make it a 53-47 lead at the break.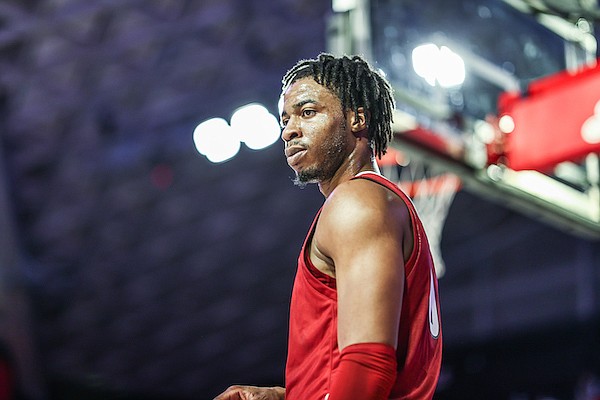 Stanley Umude of Arkansas is shown during a game against Georgia on Wednesday, Feb. 2, 2022, in Athens, Ga. (Photo by Mackenzie Miles, University of Georgia Athletics)
Arkansas' offense stayed on course in the second half, extending its lead to 14 with a quick 10-2 run capped off by consecutive threes from Umude. Led by junior Dalen Ridgnal, Georgia attempted to trim the deficit, but the Razorbacks kept their foot on the gas. Umude remained on fire from downtown as he hit two more threes to make it a 23-point game halfway through the period and would eventually cruise the rest of the way.
Umude scored 10 points quickly in the second half with a dunk and back-to-back 3's to push the lead to 65-49 in just over three minutes to start the second half. The Razorbacks outscored Georgia 46-26 in the second half.
Oguendo led Georgia (6-16, 1-8) with 17 points. Aaron Cook chipped in 12 points. The Bulldogs were 24 of 53 from the field (45.3%), including 8 of 17 from distance.
The Arkansas Razorbacks picked up their seventh consecutive victory with the road win over the Bulldogs. Notae chipped in 23 points, nine rebounds, and six assists in 32 minutes of play.
It was an all-around performance for the Hogs on the offensive end as they shot 56% from the field and knocked down a season-high 15 three-point field goals. They also finished with 23 assists as a team, their most in a game this season.
"It was going to be hard no matter what, and then, without Kario Oquendo, it got a lot harder," said Crean following the game. "We played hard. When we played it the right way and moved the ball, even if we missed, we were getting great looks. We played the zone more aggressively when we were coming down from 24 to 16. We had six stops in a row, and they started settling for threes and we were able to rebound the ball."
Senior guard Chris Lykes provided a spark for the Razorbacks off the bench, scoring all nine of his points in the first half. He finished with a season-high seven assists to only one turnover, and Arkansas outscored the Bulldogs by 17 in his 19 minutes on the hardwood.
Georgia couldn't keep up after the break, the Bulldogs opened the second half on a 12-2 run and held UGA to 10-of-29 (34.5%) shooting in the final 20 minutes.
The Bulldogs committed 19 turnovers that were converted into 26 points by the Razorbacks. Also guard Chris Lykes had four of the team's 11 steals.
Up Next:
Arkansas returns to Bud Walton Arena for the next two games, hosting Mississippi State (Feb. 5) and Auburn (Feb. 8).
Georgia will host Auburn on Saturday.