Wimbledon, England —Women nowadays are using their platforms to speak about social changes and other interests that they want to change, Ashleigh Barty is no different.
Before the tournament, Barty approached her sponsor, Fila, with a suggestion to redo elements of the outfit Goolagong Cawley wore during her first Wimbledon victory. Goolagong Cawley's white dress had buttons all the way down the front and, most notably, the hemline. It was a way to honor another Indigenous woman from Australia.
Evonne Goolagong Cawley, who 50 years ago became the first Indigenous Australian woman to win the Wimbledon.
"Evonne has guided the way," Barty said. "She's created a legacy like no other in Australia."
Barty, who is seeking her first Wimbledon title, beat Anna Blinkova of Russia, 6-4, 6-3, on Thursday and will play Katerina Siniakova of the Czech Republic in the third round on Saturday.
Ashleigh decided not to wear dresses on the court, was given a tank top and skort with similar patterns. There were other updates to it: Whereas the flowers that appeared on some of Goolagong Cawley's outfits were embroidered with colorful thread, the ones on Barty's dress were laser cut out of the fabric.
Barty said in her pre-tournament news conference that she had sought Goolagong Cawley's blessing before going ahead with the plan; Goolagong Cawley's gave it.
"That made me feel a lot more comfortable," Barty said. "Knowing her favorite dress, probably her most iconic dress, is something that inspired me and inspired our generation of Indigenous youth, I hope that my version of it, my outfit, can do the same for the next generation of Indigenous youth coming forward."
Ashleigh, who traces her Indigenous Australian ancestry to the Ngarigo people from her dad's side, said she first met Goolagong when she was about 13 years old. At age 15, she won the 2011 Wimbledon junior title, and two years ago she won her first major title, at the French Open. Barty and Goolagong Cawley, who is of the Wiradjuri people, have stayed in contact over the years.
"I think for her to be able to share knowledge with me from such a young age was incredible," Barty said last month in Paris, adding, "I'm forever grateful that she's opened up to me and has been so extremely generous with her time and her knowledge and her thoughts."
The number one Barty got into her first Wimbledon quarter-final by beating French Open champion Barbora Krejcikova in the last 16.
For someone who doesn't favor grass courts, Barty had never made to this stage before, but she play steadily with a 7-5 6-3 win on Court One.
The Australian will play the winner of Emma Raducanu and Ajla Tomljanovic's match later on Monday in the next round and will have strong hopes of adding a second Grand-Slam title to her collection.
Krejcikova is the current world number one in doubles, but she is making huge strides in the singles circuit as well.
Ashleigh Barty is into the fourth round of Wimbledon after barely beating Katerina Siniakova. She recovered from a slow start, but did enough to move past Siniakova 6-3 7-5 and keep moving forward in the tournament.
It could have been a rough night for Barty who racked up 23 unforced errors during the match but hit 26 winners and that was the difference of the contest.
With a blistering forehand, Krejcikova broke Barty's serve to go up early 3-1 lead.
Ashleigh started the match with a love hold, appearing to have regained her composure which was evident in some of forehand returns.
Barty's game came back true to form as she forced the break back, due to two Krejcikova errors to level at 4-4.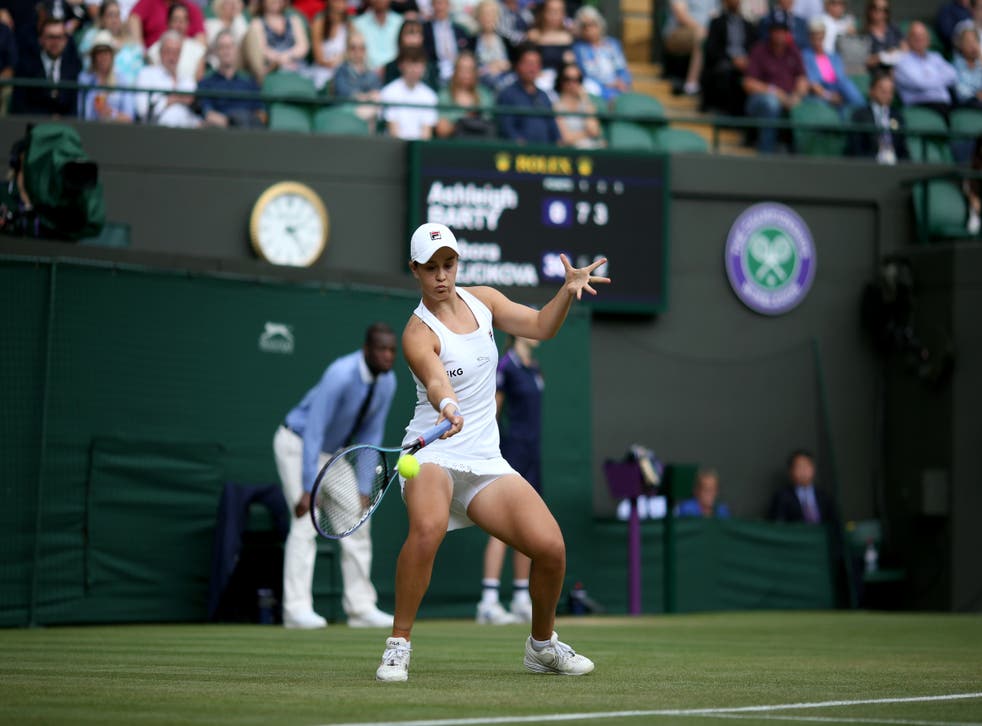 Barty began finding her range on the forehand and forced a set point in Krejcikova's next service game before eventually getting it done two games later, winning the first set 7-5.
The second set – and the match – was decided by a run of three break of serves, which Ashleigh got two of as she asserted the win in clinical fashion.
Siniakova, however, did her best to hold off Barty serve and then the Czech watched as Barty fired off a host of errors in her next service game.
She said in her on-court interview: "It was a tough match. Barbora has had an incredible year, she has been one of the toughest players.