Santa Clara, Calif. — The game against the Green Bay Packers felt a little different for running back Raheem Mostert who got cut from six different NFL teams and was a special team player for the 49ers.
All he did yesterday was rushed for four touchdowns and 220 yards and was a part of NFL history.
On the 49ers' second possession of the game, on their fifth snap, Mostert ran for 5 yards. Then he ran for 6 yards. Then sprinted for 36 yards and a touchdown without getting touched.
"He's always been a special-teams ace. He never complained about his carries," tackle Joe Staley said. "The guy works harder than anybody. He's been patient, never complaining about his role. This is what happens when you accept your role on the team and you don't worry about stats. You have a moment like this.
Mostert helped his 49ers throttle the Green Bay Packers 37-20 in the NFC Championship Game at Levi Stadium in Santa Clara. Frisco is firing on all cylinders at the right time heading into the Super Bowl.
"Our defense is back," 49ers tackle Mike McGlinchey said. "Our defense is healthy again, and they suffocate other teams, and it allows us to stay in front and control the clock and run the ball."
In two postseason games, the 49ers' defense has allowed 252.5 yards, 41.5 rushing yards and 14 first downs per game and has come up with nine sacks, leading all postseason teams in those categories.
Against Green Bay, the 49ers' defense pitched a shutout in the first half and built a commanding 27-0 halftime lead. The Packers didn't know if they were coming or going in the first half.
"We aren't just happy to be here," cornerback Richard Sherman said. "Guys are playing to win, so guys are going to treat it like a game they are trying to win. They are not sitting here like, 'Oh my God, let's celebrate. We are in the Super Bowl."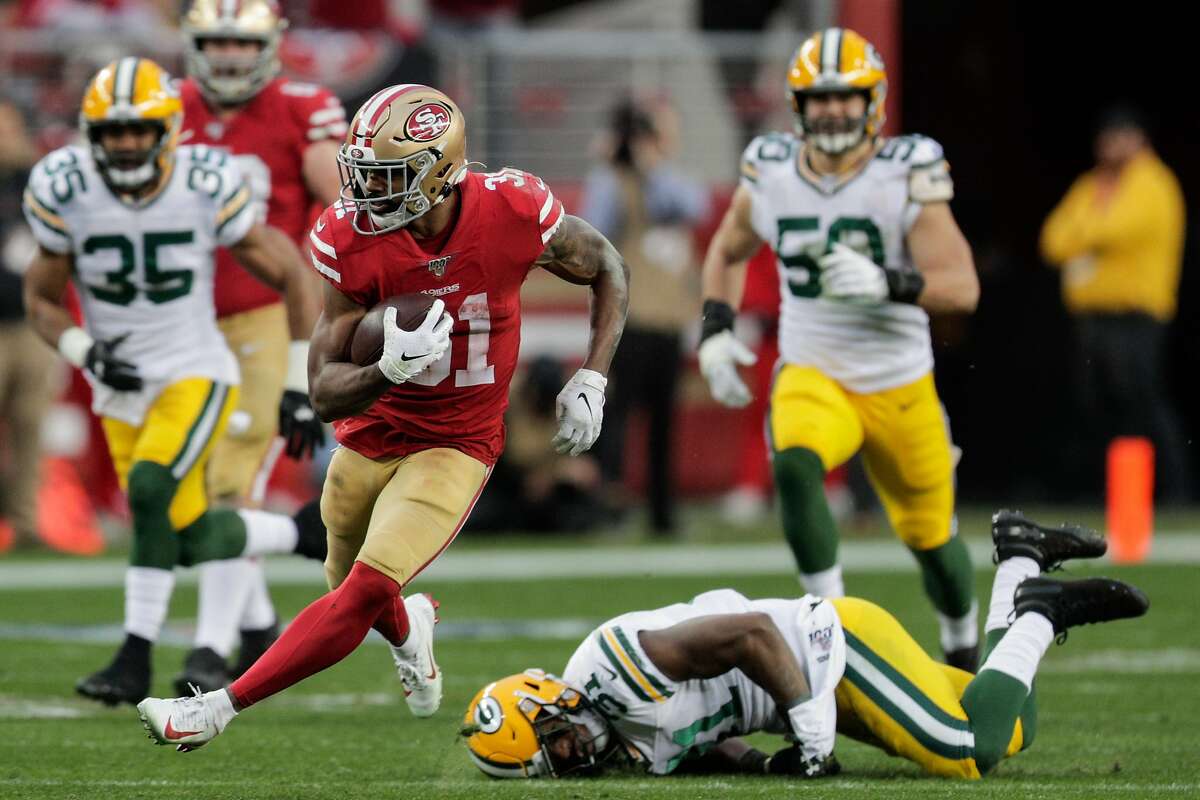 "The lanes we saw, the way he was running, we wanted to keep feeding him," said head coach Kyle Shanahan, who called a wildly imbalanced game, with 42 running plays and just eight passes. "He battled through camp. He's just earned everything. He's such a good person. I can't say enough about Raheem."
Mostert's four touchdowns and 220 yards made history. His rushing total was the most in San Francisco postseason history, surpassing Colin Kaepernick's 181 yards in a divisional-round victory over the Packers in January 2013. Mostert finished 28 yards shy of Eric Dickerson's playoff record.
Before every game, Mostert looks at his list of the teams that cut him, and the date each did it. Philadelphia, Miami, Baltimore, Cleveland, the New York Jets, and Chicago. Not good enough, times six.
But he was in a class all by himself on Sunday. And good enough to carry his team to the Super Bowl.